Sam's Web Page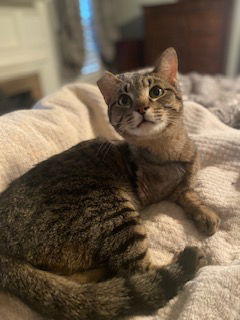 Won't you think about adopting me?
Sam is located in Argyle
Description:
Hi, my name is Sam. I have been through way more than any kitty should ever have to go through in their life! Please read my story, I am looking for my forever family, that will love and protect me.
Sam was found by some kind people. They noticed a little cat outside who was hurting and had a horrible trap stuck on his right front leg. It had been there for a while and the leg was horribly infected. They brought Sam to Animal Allies of Texas who then immediately transferred him to the hospital where his leg had to be amputated. Sam was so traumatized from the injury that he hid and would not eat after he was first released. But with much love and attention, Sam is making a great recovery. He's still a little scared and cautious but he loves to snuggle on the bed and absolutely loves to be rubbed. He'll roll over from side to side to make sure you give him attention everywhere. He'll also sleep next to you all night and feel safe with you. Sam will need a kind and loving person who is willing to spend time with him and help him feel safe and loved. He gets very scared of other animals and he's very concerned when anyone he doesn't know walks in. It's going to take Sam a while to gain all of his confidence back, but with the right person, we know this will be possible. Sam has been through so much and deserves to be loved completely!
I will need someone with patients and all sorts of love. I am learning to navigate with three legs, and promise if you love me and give me some time to know that you are going to protect me ... I will love you with my whole heart!
Name: Sam
Rescue ID: C220017
Species: Cat
Breed: Domestic Short Hair / Mixed (short coat)
Color: Black and Brown Tabby
Sex: Male (neutered)
General Potential Size: Medium
Current Age: 4 Years
Activity Level: Slightly Active
Indoor or Outdoor: Indoor Only
Good with Kids: Yes
Declawed: No
Housetrained: Yes