Titus' Web Page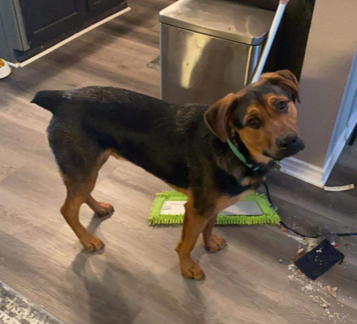 Won't you think about adopting me?
Titus needs a caretaker or foster!
Won't you consider helping him get a new start?
GUEST DOG - REHOMING REQUEST
Description:
Hi friends! My name is Titus. I am the sweetest baby, but I am a PUPPY and I love to play! I like to jump on you when I am excited, but I am currently learning better manners.
I need a big space to run around outside because I have a LOT of energy! I have several stuffed toys (my babies!) that I will bring with me, and my foster mom will show you my favorite treats!
My foster mom has taught me a lot of new tricks. I have mastered sit, shake, catch, speak, kiss (I am still working on stay, wait, down, come). But I am a fast learner!
I am smart and will go to the door and look at you when I need to go outside and do "my business".
I can play rough or gentle, you just need to tell me "no bite" and I will stop.
I sleep in a crate at night and when my family leaves the house. I call it "my bed" and typically get a super yummy treat when I go straight in there.
I love older kids, but younger kids are scared of me, even though I just want to play, and I bark at them.
I'm only a chewer if I do not have something to chew on. I give the best kisses and LOVE my foster mom!
Name: Titus
Rescue ID: D220011
Adoption Fee: 200
Species: Dog
Breed: Shepherd / Mixed (medium coat)
Color: Rust face, trunk, legs - black everywhere else
Sex: Male (neutered)
General Potential Size: Large
Current Age: 1 Year 3 Months
Activity Level: Moderately Active
Indoor or Outdoor: Indoor and Outdoor
Good with Dogs: Yes
Good with Cats: Yes
Good with Kids: Yes
Declawed: No
Housetrained: Yes
Other Pictures of Titus (click to see larger version):

157.6k

33.5k

109.9k

190.5k

52.2k

30.9k

26.8k