Cricket's Web Page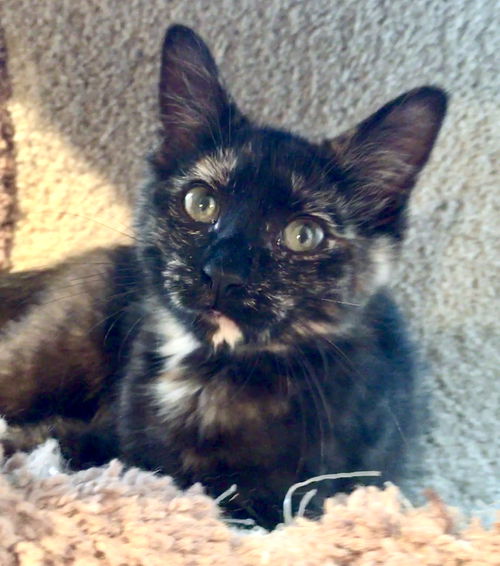 I would love you more than you can imagine.
Please adopt me!
Cricket is located in Dallas
Description:
Cricket is a good natured tortie. The foster family trapped Cricket on 6/12/22 thinking she would be fixed and released. But…. Cricket turned out to be pretty clever and learned how to be house cat in just a few days. She is still a bit skittish with new noises and people but she doesn't try to scratch or bite when handled. She has already quietly tolerated a bath with just a little bit of wiggling. She tried to make friends with our older cats in the foster home, but they are stuck-up and not interested in making new friends. She did make friends with the one year-old tabby cat and follows him everywhere. They wrestle, play chase and observe nature on the catio. She even lets him clean her ears. She loves to chase after shoe laces and teasers with feathers or ribbons. She also entertains herself with a ball track. She likes to climb and sit on high perches. She has a good appetite and eats wet and dry food. She purrs loudly when stroked. She is a sweetie and will make the right family a wonderful friend.
She is easy to love:)
Name: Cricket
Rescue ID: C220087
Adoption Fee: 150.00
Species: Cat
Breed: Domestic Short Hair / Tortoiseshell / Mixed (short coat)
Sex: Female (not spayed)
General Potential Size: Medium
Current Age: 5 Months 12 Days
Activity Level: Moderately Active
Indoor or Outdoor: Indoor Only
Good with Cats: Yes
Good with Kids: Yes
Declawed: No
Housetrained: Yes
Other Pictures of Cricket (click to see larger version):


961.9k