Tendi's Web Page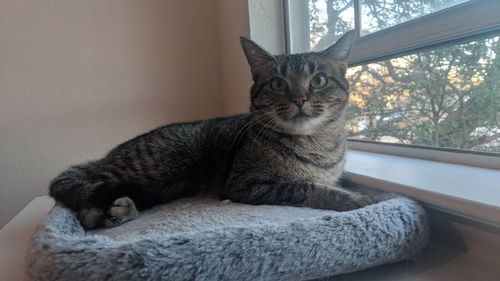 Won't you think about adopting me?
Tendi is located in Bedford TX
Description:
Hello, my name is Tendi. I'm a shy kitty who loves belly rubs! When my foster parents first caught me, I was very frightened and had no idea what was going to happen to me. I was so scared I even managed to squeeze my way into a bathroom drawer multiple times until they figured out how to block me. With a lot of love and care, I eventually came to realize that not all humans are scary, and that belly rubs feel really good. As soon as I start getting petted, I roll over and start "making biscuits" in the air. Since I'm still a kitten, I'm also very energetic and playful. I love rolling around with cat toys and playing with other kitties in the house.I can't wait to get a forever home with a family who will give me all the belly rubs I can stand!

Name: Tendi
Rescue ID: C220182
Adoption Fee: 125.00
Species: Cat
Breed: Domestic Short Hair / Mixed (short coat)
Color: Brown & grey tabby white strips
Sex: Female (spayed)
General Potential Size: Medium
Current Age: 8 Months
Activity Level: Moderately Active
Indoor or Outdoor: Indoor Only
Good with Cats: Yes
Declawed: No
Housetrained: Yes
Other Pictures of Tendi (click to see larger version):